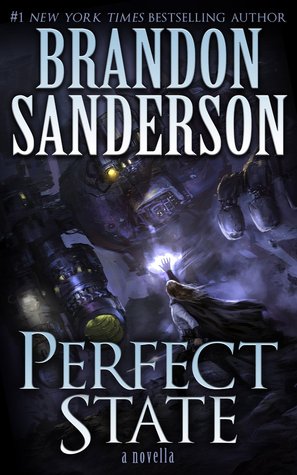 Perfect State
Author:
Brandon Sanderson
Publisher:
Dragonsteel Entertainment
Pages:
Kindle Edition, 71 pages
Genre:
Fantasy
Release Date:
March 31st 2015
Summary:

From the author of Legion and the #1 New York Times bestselling Stormlight Archive comes an action-filled novella about privilege, culture clash, and expectations.

God-Emperor Kairominas is lord of all he surveys. He has defeated all foes, has united the entire world beneath his rule, and has mastered the arcane arts. He spends his time sparring with his nemesis, who keeps trying to invade Kai's world.

Except for today. Today, Kai has to go on a date.

Forces have conspired to require him to meet with his equal—a woman from another world who has achieved just as much as he has. What happens when the most important man in the world is forced to have dinner with the most important woman in the world?


Review:
Mr. Sanderson is a brilliant writer without a doubt. I would read anything this man writes. In fact, I would even read ideas or little scratched torn pages in his scribbled handwriting if I could get my hands on those. That said, this novella wasn't the most original piece of work I've read from him.
This story introduces us to a Matrix-esque world where everyone is nothing but code living ordinary lives. The twist being the Liveborns.
Liveborns are humans whose brain have been cut out and put into a simulation world for them to rule
It's an interesting twist but somehow not quite the novel ideas I'm used to reading from Mr. Sanderson.
Nonetheless, he does a fantastic job of keeping me enthralled till the end. The way he ends the novella though is a winner. I hadn't seen that plot twist and it was hella awesome. Mad props to him for that.
I would definitely recommend everyone to try this out. Since, you know, it is Brandon Sanderson after all
Rating:
(click on the name for reviews of this geek)