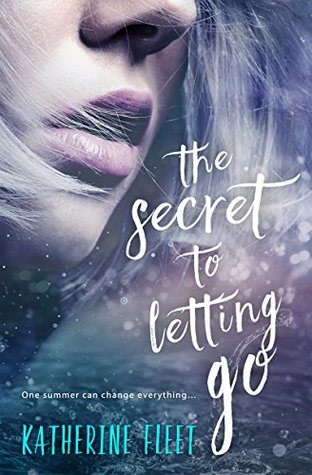 The Secret to Letting Go
Author:
Katherine Fleet
Publisher:
Entangled: digiTeen
Pages:
Kindle Edition, 334 pages
Genre:
YA
Release Date:
February 1st 2016
Summary:

One summer can change everything...

Haunted with guilt after his girlfriend's death, Daniel Hudson has no interest in committing to anyone. At the end of the summer, he'll be leaving Florida for a new start in college. If only he could avoid the mysterious new girl in town, who seems every bit as naive and eccentric as she looks. Trouble is, she's hard to ignore, with her beautiful piercing eyes, pitiful-looking dog, and unsettling tendency of finding trouble.

Clover Scott lived her whole life off the grid and arrives on the Gulf coast in search of her grandparents. She never expected to nearly drown, or get caught in a hurricane, or fall in love with the boy who rescues her. Now, she has a chance to rewrite her life's story, to finally fit in somewhere, but Daniel wants answers about her past. When the police start asking questions about the disappearance of her parents, she must make a choice: go to jail or confess her secrets—even if they might destroy her chance at a happily-ever-after.


Review:
SO I just need to first mention this: Please have a look at the cover. Isn't it very pretty?
The coverslut in me was very happy indeed, when I got this novel.
And while one shouldn't judge a book by it's cover, this one, well just go ahead and do.
Because if I had to describe The Secret to Letting Go in one word? My choice would be beautiful.
I love Fleet's prose. And I am definitely going to look out for more books by her. Her writing style is descriptive, thoughtful and subtle.
The plot was well paced. I liked the back and forth in time. And Fleet chose the right moments to expose more details of the mystery. It kept you in the exact right amount of suspense, to eagerly read on but not be distracted from the subtle changes and small events. There were some nice twists, bits that I didn't exactly anticipate.
But I also have to say that some events were kinda unbelievable and a tad too convenient. Especially how Clover's situation got solved.
I was however too wrapped up in the characters to care. I connect with both Daniel and Clover quite quickly. While I wasn't a fan of their insta-connection/love or whatever. I did love both POV and I routed for them. I loved Clover's inexperience and her wonderment. I love how Daniel found himself as her protector but also how they helped each other deal with their past. They both change over the run of the story- and it is believable. Fleet it an amazing job at showing their heartbreak, their insecurity without being melodramatic- but rather it's subtle yet raw and real. Heartbreakingly beautiful.
Last but not least: a word to the epilogue. I would have been ok with the end- before the epilogue. The epilogue made me grin- the perfect cute & fluffy to a heartbreaking & heartwarming story.
So even if the romance was rather insta, the story line rather unbelievable at times - it is still overall a unique cute & fluffy- that has actually some serious depths. And there lies my favorite part of the book. The depth. The unexpected dealing with loss and overcoming the past. It's beautifully done, incredibly moving and yet wonderfully uplifting.
Rating:
ARC was provided by Publishers through Netgalley in exchange for an honest review
(click on the name for reviews of this geek)