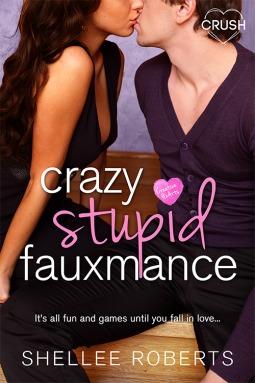 Crazy, Stupid, Fauxmance
Author:
Shellee Roberts
Publisher:
Entangled: Crush
Series:
Creative HeArts #3, Mariely and Cabot #1
Pages:
Kindle Edition, 166 pages
Genre:
YA
Release Date:
April 18th 2016
Summary:

Disclaimer: This Entangled Teen Crush book contains a kickass heroine, a boy so hot he'll make you shiver, and a falling-in-love story fit for the big screen. You'll want to settle in and have the popcorn ready.

After Mariely Hinojosa and Cabot Wheeler both break up with their significant others at the same party, Mariely sees a way to get even with both of their exes. Everyone knows that the best way to get over a breakup is a hookup—a fake hookup, that is. Three weeks, all fun, no strings, and definitely no heartbreak at the end.

But somewhere between the sweet hand-holding and melt-your-mind kisses, their fake relationship starts to feel less like an act and more like the real thing...but Mariely's a free-spirited girl from the other side of the tracks, and Cabot's the hot trust-fund guy from the Hills.

They'd never work for real...

Mariely and Cabot Book 1 of 3
Mariely and Cabot Book 2 coming Winter 2017


Review:
Crazy, Stupid, Fauxmance made me think of two quite funny tidbits that are oddly connected:
I clearly have a thing for Entangled Crush books... They kinda my well written, enjoyable cute & fluffy supplier of late. And CSF just was proof of the fact. Cute, fluffy, well written and so enjoyable.
The second fact is that I have grown to adore multi-author series. And guess who has gotten me into that? Yep, Entangled Crush. The Creative Hearts series is just one of the reason I love multi-author series. I love how each author does one couple, so we have unique POV and different storylines, but the book do also overlap, time wise and naturally there are some of the same people in all the books.
The reason why I am rambling on about these two things is that first I love Entangled Crush books for above reasons, and second Crazy, Stupid, Fauxmance does totally cement all of it. Some how the authors have managed to write their own books but they are so well synced it's amazing!
The plot is the let's fake it till me make it romance. And it's rather A to B to C, so quite what one expects and definitely no surprises.
Just like it's predecessors in the series, this is full of teen angst and plenty of drama.
But it also feature beautiful descriptions about the love for their arts. I could totally relate to Mariely's love for acting. And I don't have a single bone in my body that can act!
Cabot's love for painting, his fears and his passion for photography was dear to my heart, those being my own mediums of choice. I honestly feel Roberts did nail these bits.
While the plot is quite your usual usual - this shine with character building. It was amazing to revisit previously seen characters, seeing them from a different POV.
To be honest Willa totally surprised me. Because I actually didn't like her much in How Willa Got Her Groove Back. I have gained a new outlook on her, and well, she totally grew on me.
I love that Roberts and her co-Authors of the series seem to be able to go seamless through the characters. Though for some characters we see a totally different side to them, most of them are just exactly how I remembered. It's like visiting old friends. Which is really brilliant considering each book in the series so far has been written by a different person.
I liked both Mariely and Cabot. I can't wait to see where their journey is taking them next...
Love the support cast except I am a bit disappointed in Audrey. She was one sided in Willa's book, and this was even more cliche. I kinda get that she is the villain and all that. I loved the big showdown - it's totally your high school romantic movie scene - which is entertaining thus good. I admit to being totally gleeful and mentally high-fiving the boys through it. But it's also been done like a gazillion times. And it left me a tad disappointed in Audrey as a character.
As I said this is well written. It's the first book I read by Roberts and I am looking forward to the next book. My only little thing I didn't like about the writing style is that Cabot's POV is written in 3rd person. I would have prefered if it would have been written in 1st person like Mariely's.
And I ask myself, what's next? In the series, for each couple are there more couples or authors?
AND when is the next book coming out?! I don't even care who's book, just any of them..or even better all of them!
Rating:
(click on the name for reviews of this geek)
This is your normal text here
but the text inside these tags is a spoiler!
. And then you can keep writing over here.