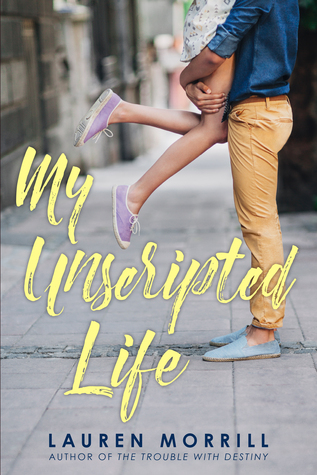 My Unscripted Life
Author:
Lauren Morrill
Publisher:
Delacorte
Pages:
Hardcover, 288 pages
Genre:
YA
Release Date:
October 11th 2016
Summary:

Perfect for fans of Jennifer E. Smith and Huntley Fitzpatrick, you'll love this funny and sweet contemporary romance about a Southern girl ready for a ho-hum summer until she meets the boy of her dreams who happens to be an international pop star.

Sometimes love stories go off script.

Another sultry Georgia summer is about to get a lot hotter. Dee Wilkie is still licking her wounds after getting rejected by the precollege fine arts program of her dreams. But if she'd gone away, she wouldn't have been around to say yes to an unbelievable opportunity: working on the set of a movie filming in her small Southern town that just happens to be starring Milo Ritter, the famous pop star Dee (along with the rest of the world) has had a crush since eighth grade.

It's not like Dee will be sharing any screen time with Milo—she's just a lowly PA. And Milo is so disappointingly rude that Dee is eager to stay far away from him. Except after a few chance meetings, she begins to wonder if just maybe there's a reason for his offensive attitude, and if there's more to Milo than his good looks and above-it-all Hollywood pedigree. Can a relationship with a guy like Milo ever work out for a girl like Dee? Never say never. . .


Review:
My Unscripted Life is a perfect example for what I like to call a cute & fluffy. Well written novel with a cute romance, preferably some swooning and a hottie, but mostly very entertaining light hearted reading. Basically just get on and enjoy the ride. Don't think too much. It's kinda like a booky happy place.
I got all that from MUL. So totally what I expected.
It's well written. It's by Morrill, I didn't expect anything else to be honest. There are some beautiful description of Georgia. Interesting and accurate descriptions of film sets. There is some fun humor and cute banter. It made me smile and even laugh. Some awesome scenes to be sure.
I love Dee. She is the archetypical teen girl. You know like all of us. A tad melodramatic ( way too much at times), kinda obsessive, unsure and yet thinks she knows everything only to discover she doesn't. Sometimes insecure, opinionated and generally unique.
Morrill created a fascinating, likeable character. Her struggles and insecurities are relatable. She is interesting and fun. As I said I simply loved her.
The support cast was interesting- but at times fell a bit short. I mean we don't really get to know any of them very well. Though there are many sweet moments, where Dee connects with them and we get a glimpse of them. This is mostly a Dee-train, I guess since it is written from her POV it is kind inevitable but I kinda wanted more about the other characters, especially Milo.
He is cute, he is a hottie I grant you that. But what do I actually know about him? Uhm, frankly not much more than what Dee got off google.
Which is where the story line - while super cute and with a swoony ending- falls short as well. I didn't get where he was coming from. And the changes at the end? I was a bit well, flabbergasted. I mean hello? teenager?! And then I was left with the question of what he will do when she follows her plan?
The big romance, it kinda happened over two dates. And I was left wishing there was more. Because like this it feels too surreal and impossible.
But saying that, I also should mention I only realised that when I sat down to write a review. Basically, totally cute & fluffy. Read, enjoy - swoon- but DON'T think.
There is a side theme however, which is her plans for the future. I absolutely love those parts of the story. Very inspiring!
Fun, cute, enjoyable and well written, even if there are a few questions I was left with, great cute & fluffy.
Rating: