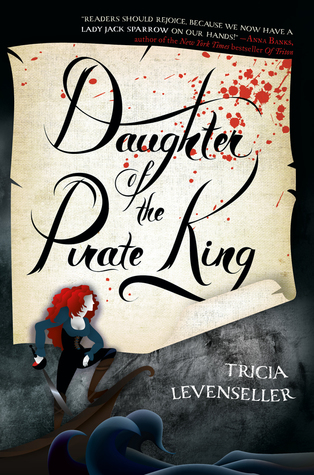 Daughter of the Pirate King
Author:
Tricia Levenseller
Publisher:
Feiwel & Friends
Series:
Daughter of the Pirate King #1
Pages:
Hardcover, First , 320 pages
Genre:
Fantasy
Release Date:
February 28th 2017
Summary:

A 17-year-old pirate captain intentionally allows herself to get captured by enemy pirates in this thrilling YA adventure.

Sent on a mission to retrieve an ancient hidden map—the key to a legendary treasure trove—seventeen-year-old pirate captain Alosa deliberately allows herself to be captured by her enemies, giving her the perfect opportunity to search their ship.

More than a match for the ruthless pirate crew, Alosa has only one thing standing between her and the map: her captor, the unexpectedly clever and unfairly attractive first mate, Riden. But not to worry, for Alosa has a few tricks up her sleeve, and no lone pirate can stop the Daughter of the Pirate King.

Debut author Tricia Levenseller blends action, adventure, romance, and a little bit of magic into a thrilling YA pirate tale.


Review:
After finishing I was baffled as to how to rate this.
It's the same old question though isn't it. Because rating is really completely subjective, though I do try and look at it objectively. In the end rating has a lot to do with how much one enjoys a book.
And here lies my dilemma. I like the idea of the book. I do. In theory this should totally be my favorite book EVER. I mean it's like Pipi Longstocking goes YA, with a splash of Pirates of the Caribbean and a good dose of Greek mythology.
Totally up my alley. Right?
Eh.
I actually struggled heavily reading the first half. In fact would this not have been an ARC I definitely would have DNFed at 25%. But as it was an ARC. I read on.
I am pleased I did, because somehow around 75% I found myself invested in the book and didn't even mind the writing style very much.
The writing style is the first hurdle for me here. I am not a fan. It's not my cup of tea. I found Alos not witty or boisterous. I just found her annoying for pretty much half the book. Then Levenseller changed the storytelling style a tad, less bragging more story telling and I grew to like her more.
The cast was very cliche. I mean VERY. It felt too much like any good old pirate flick I have seen, trust me I saw alot of them as a child. Pipi was my absolute hero for several years. But again, suddenly at the end, I realised though they all are extremely cliche, they did grow on me. Somehow Levenseller did add unique details to them and I found myself caring for them.
The plot is quite entertaining. Again very piratey and reminiscent of many pirate flicks I have seen.
At the end however, I found myself wondering where the story goes and I am planning to read the next installment.
That's why I ended up rounding 2.5 Stars up to 3.
To be honest I think I would have loved this a movie. I think someone should make a movie out of this! It reminds me of some childhood favorites and I think it would be simply a good pirate romp!
Rating:
ARC was provided by Publishers through Netgalley in exchange for an honest review