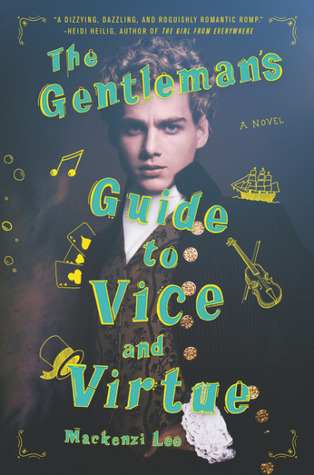 The Gentleman's Guide to Vice and Virtue
Author:
Mackenzi Lee
Publisher:
Katherine Tegen Books
Pages:
Hardcover, 528 pages
Genre:
YA
Release Date:
June 27th 2017
Summary:

An unforgettable tale of two friends on their Grand Tour of 18th-century Europe who stumble upon a magical artifact that leads them from Paris to Venice in a dangerous manhunt, fighting pirates, highwaymen, and their feelings for each other along the way.

Henry "Monty" Montague was born and bred to be a gentleman, but he was never one to be tamed. The finest boarding schools in England and the constant disapproval of his father haven't been able to curb any of his roguish passions—not for gambling halls, late nights spent with a bottle of spirits, or waking up in the arms of women or men.

But as Monty embarks on his grand tour of Europe, his quest for a life filled with pleasure and vice is in danger of coming to an end. Not only does his father expect him to take over the family's estate upon his return, but Monty is also nursing an impossible crush on his best friend and traveling companion, Percy.

Still it isn't in Monty's nature to give up. Even with his younger sister, Felicity, in tow, he vows to make this yearlong escapade one last hedonistic hurrah and flirt with Percy from Paris to Rome. But when one of Monty's reckless decisions turns their trip abroad into a harrowing manhunt that spans across Europe, it calls into question everything he knows, including his relationship with the boy he adores.

Witty, romantic, and intriguing at every turn, The Gentleman's Guide to Vice and Virtue is a sumptuous romp that explores the undeniably fine lines between friendship and love.
Review:
First I should mention that I somehow missed that this is an m/m romance... Don't ask me how, or why I just kinda didn't know it. And we all know that I am not a huge fan of m/m romances. However, this is a fun and cute gay Regency rump. And I am sure for readers, who like gay romances better than I do, this is a must read. I feel a bit bad to "only" rate this 3Stars, but honestly, while there were aspects I really liked, this was just not quite my thing. Rating, in the end, is subjective.
So the romance was not quite my cup of tea. I found it a bit slow and painful at times but also really cute. And let me tell you, I loved the end!
The writing, however, was fantastic. I love the writing style, adore the sense of humor and I think there was some amazing research put in. Most of all I felt like Lee did convey a lot about the places and era. The narration feels British and in my imagination historically accurate. The descriptions of the places are fabulous.
The story line is one misadventure after another. I did enjoy it, though I wanted to smack Monty at times and I gotta say it's a bit long wound at others.
Most of all The Gentleman's Guide to Vice and Virtue shines in the character building. Lee did a fantastic job with the MCs and also with the support cast. They felt real and I could relate to them, most of all I got their insecurities and understood their wishes. Very well done indeed.
So while at times this is not quite my thing, it is extremely fun, well written and definitely, a must read! Can't wait to see what Lee comes up next with.
Rating: