1. Tell us 5 random fact very few people know about you?
Hi all!
I'm supposed to spill? Okay, here we go…
I'm afraid of birds – okay, don't laugh, there's a reason for this. I'm usually wearing glasses. Well, I'm a little cross-eyed without, and unfortunately, I can't see with both eyes at the same time. Only one is really focusing, the other is sort of balancing the rest. Now, if you can't do that, there's no way you can see 3D. And when a bird is flying toward me (three-dimensional and criss-cross through the air instead of like a cat which comes running straight for you) I always panic a little, because my first instinct is that it will crash into me. Weird? Tell me about it… ;-)
I'm a sucker for sweet-sour. You know what's nutella, right? Well, I love that on a pastry with lots of salt on it.
I'm a control freak. Important tasks I'd rather do myself then let anyone else do them, like keeping track of book sales, carrying the passports when we go on a vacation, translate my books into German myself rather than have any translator mess up only a single line. I'm also OCD and a perfectionist.
My memory goes back to the early days of my childhood even before kindergarten. It starts about when I was two and half, which I was told is rather unusual.
In the middle of a book I read, I always go to the last page and read the last 2 paragraphs. I don't want to do that really, but there's always that moment when I can't resist any longer. After I did, I hate myself for it. LOL
2. What's the last book you read?
DIVERGENT. It was fantastic. I had such a book-hangover. But I'm not going to read book 2 and 3 in the series, because I just don't have much time to read besides writing, and when I read, I want it to be a real romance. Divergent has romantic elements in it, but it's more urban fantasy than anything else.
3. Coffee or Tea?
I like both, but I drink coffee only when I have company, while I drink tea when I'm alone.
4. Who is your hero?
Everyone who's brave enough to stand up for the good things in this world. And Disney.
5. What are your 5 favorite books and movies?
Okay, books first:
Twilight
Fifty Shades of Grey (book #1 only)
Hush, Hush
Rule
Summer of my Secret Angel - I know this is my own, but I loved writing it and later on reading it and also translating it. I actually had to read it 25 times before it got published. I wanted it to be perfect is why.
Now movies:
Lord of the Rings
Disney's Alice in Wonderland
The Bourne Identity
Star Wars
Anything Disney, really
6. Who's your fictional crush?
All my own heroes because I can create them perfectly after my imagination down to the very last freckle on their nose.
Outside my own books, Edward Cullen (only from the books, not from the movies!!) and Christian Grey are fighting for the pole position.
7. Favorite Book Cover?
8. Favorite Colour?
Blue
9. Summer or Winter romance?
Summer
10.Top place to visit on your bucket list?
Ian Somerhalder's apartment. He can serve me coffee there. ;-)
About Anna Katmore
The quick and dirty:
I'm a girl with a passion for writing.
The genres you'll find me hanging out at are contemporary YA and fantasy, but 1I'm also snooping into some adult paranormal right now. All of them romances…of course.
The nitty-gritty:
I'm an Austrian lass—totally uncomplicated and up to anything fun.
I grew up in Vienna – not by free will but because my parents decided to move there when I was only 4 years old. I. Hated. The. City. Everything about it. So right after graduation I moved back to Upper Austria, where I settled down with a nice husband and an awesome laptop.
I've been a storyteller all my life. Already in kindergarten, I came up with the most exotic fantasies and tales. My teacher would call me a liar. I call it the cornerstone of my writing career.
People always told me you can't make a living with being an author. So when my first novella PLAY WITH ME came out and shot straight to the stars within the first week, I was totally dumbstruck. Took me a while to realize what was happening, LOL.
And finally – the personal stuff:
At the (awesome) age of seventeen, I met the love of my life. But he was a playboy, and I was so not going to be his next trophy. It took him another four years of fighting for me until I finally decided to give that couple-thing with him a shot. I'm now married to this man. ;-)
We have an eleven-year-old son, and together we travel a lot…although I sometimes wish the trips were shorter because I can't wait to get back to my computer and my many stories. Unless we're in Disneyland. No stress to go home then…
If you still want to know more about me, my FAQ page is the right address for you. ;-)



DON'T MISS Anna's newest novel!
Neverland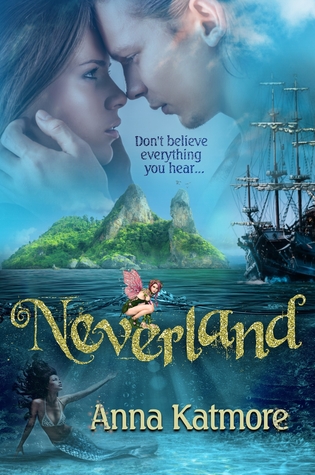 Genre:
Fantasy
Release Date:
Summary:

Why is there a boy who doesn't want to grow up?
How can an apple start the sweetest romance in fairytale history?
And what does a ruthless pirate have to do with it all?


Angelina McFarland loves reading fairytales. But she never dreamed of falling right into one herself. That's exactly what happens when she slips on her balcony and a flying Peter Pan catches her mid-fall.

Ending up in Neverland where no one seems to age and laws of nature are out of control, Angel has no idea how to get home. Worse, the ruthless Captain Hook captures her and keeps her trapped on his ship, the Jolly Roger, where she gets caught between the lines of a timeless battle. But the more time Angel spends with the captain, the more she sees beneath his ruthless façade.

As Angel desperately tries to find a way to return to her real life, she discovers a train ticket to London in her pocket. It won't be any help in getting off the island, but as her memory fades away the longer she stays, this is all she has left to remind her of her former life and why she can't give up trying.

Or is staying in Neverland forever the better choice after all?


Grab a happy thought and follow Angel on an adventure that will keep you breathless and smiling long after you read the last page…