NALINI SINGH
1. Tell us 5 random fact very few people know about you?
I speak three languages: English, Hindi, & Japanese
I can use chopsticks like a pro (courtesy of living in Japan for several years)
I like seedless grapes
I used to play field hockey
I collect snowglobes from around the world
2. What's the last book you read?
I read an early copy of Milla Vane's new novella (to be released as part of the Night Shift anthology). Barbarians! Adventure! Smexy times! It's awesome.
3. Coffee or Tea?
Tea all the way.
4. Who is your hero?
The hero of the book I'm writing at that time.
5. What are your 5 favorite books and movies?
Too tough! I'm going to stick to movies, because with books I just can't imagine naming only 5.
Pride & Prejudice (BBC/Colin Firth version)
Jodhaa-Akbar (Bollywood)
Ladyhawke (An older but totally awesome movie).
Jab We Met (Bollywood)
Love Actually (Makes me smile).
This list changes with my mood. :-)
6. Who's your fictional crush?
Not counting my own heroes, currently...I'm in love with Laura Florand's chocolatier heroes. Chocolate + hotness = win.
7. Favorite Book Cover?
Way too hard to decide!
8. Favorite Colour?
Blue. Every shade. Though I have been wearing a lot of pink lately.
9. Summer or Winter romance?
Winter
10.Top place to visit on your bucket list?
Machu Picchu
Thanks for the lovely interview!
About Nalini Singh
New York Times and USA Today Bestselling author Nalini Singh is passionate about writing. Though she's traveled as far afield as the deserts of China, the Highlands of Scotland, and the temples of Japan, it is the journey of the imagination that fascinates her the most. She's beyond delighted to be able to follow her dream as a writer.
Nalini lives and works in beautiful New Zealand. You can contact her directly through her website: www.nalinisingh.com. While visiting the site, Nalini invites you to join her newsletter for up-to-date news about both the Psy-Changeling and Guild Hunter series, as well as fun exclusive extras, including free short stories set in her worlds.



DON'T MISS NALINI'S NEXT BOOK!!!!
It's released next week. Find Glam's review
here
Rock Addiction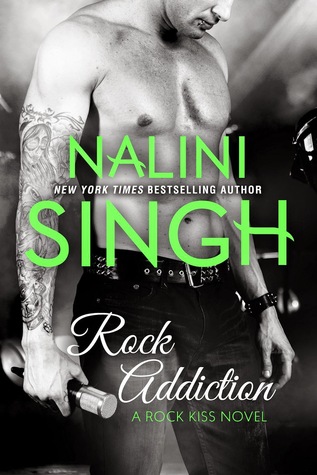 Genre:
New Adult
Release Date:
September 9th 2014
Summary:
New York Times bestselling author Nalini Singh stuns with a sizzling contemporary romance…

A bad boy wrapped in a sexy, muscled, grown-up package might be worth a little risk…

Molly Webster has always followed the rules. After an ugly scandal tore apart her childhood and made her the focus of the media's harsh spotlight, she vowed to live an ordinary life. No fame. No impropriety. No pain. Then she meets Zachary Fox, a tattooed bad boy rocker with a voice like whiskey and sin, and a touch that could become an addiction.

A one-night stand with the hottest rock star on the planet, that's all it was meant to be…

Fox promises scorching heat and dangerous pleasure, coaxing Molly to extend their one-night stand into a one-month fling. After that, he'll be gone forever, his life never again intersecting with her own. Sex and sin and sensual indulgence, all with an expiration date. No ties, no regrets. Too late, Molly realizes it isn't only her body that's become addicted to Fox, but her heart…