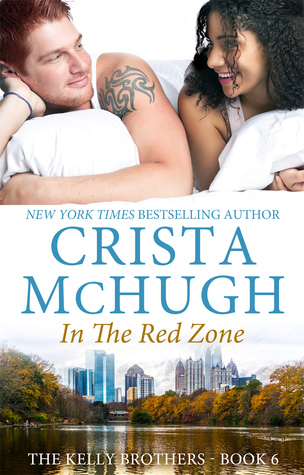 In the Red Zone
Author:
Crista McHugh
Series:
Kelly Brothers #6
Pages:
Paperback, 212 pages
Genre:
Contemporary Romance
Release Date:
March 25th 2015
Summary:

All-Star linebacker Frank Kelly is as well-known for his off-the-field hits as he is for his on-field ones. When a dance club brawl ends with him in handcuffs again, he's rescued by a well-connected woman who can get the charges dropped in exchange for a small favor. If he'll agree to play the part of a doting boyfriend for two months, she'll keep him out of the slammer and help restore his reputation.

Kiana Dyer may be the daughter of a Hall of Fame football player, but the charity organization she took over when he died isn't getting the media attention she'd hoped for. A staged romance with Frank Kelly is just the ticket she needs to get in the spotlight. As the lines between fake and real start to blur, she begins to wonder if bailing him out was the best call she's ever made. Just when everything seems to be falling perfectly in place, scandal surrounds her charity, and she's the one left scrambling to clear her name.

Recommended for those who like:
Sports Romance
Interracial or Multicultural Romance
BWWM


Review:
This is book six of the Kelly Brothers Series... BOOK SIX!! I can't believe I read six books in this series, it feels like way less. This is a good thing by the way, I rarely keep interest for a series beyond 6book, I quite often get kinda bored after book five or so. When I realised that In The Red Zone is the penultimate in the series, I thought, can't McHugh invent some half brothers? I mean just add that Kelly senior had an affair or two and add a few illegitimate previously unknown brothers.... okay maybe I am a tad bit unreasonable. But sufficient to say, I like the series and wish there would be more way more than just one more book
This one just like the others features one of the Kelly brothers and his love interest. So he is rich and handsome and all around awesome, naturally. McHugh did this really clever thing though, that each brother is in a different profession and in a different place than all the others. Which as a result means each book is set in completely different premisses. As I said very clever. It makes each book feel fresh and each book works as a standalone as well. While naturally it's advised to read the series in order, you don't really have to. The books don't really give away any spoilers- well nearly none at least. Which brings me to one of the things I found lacking in In The Red Zone; I really would have liked more of the other Kelly in this book. I love the brothers and other than a few phone call, there was no interactions between them.
The story line is, well frankly, predictable. None of the twists surprised me at all, not only that I saw them coming from a mile. There is the usual usual that comes with a cute & fluffy - and a really sweet ending. No surprise but very enjoyable, I read this in one sitting. So if you need an insta c&f fix this is your thing.
The writing, well no surprise, is great. I adore Crista McHugh's prose. In fact I found her books by chance on Netgalley and have read every single thing she released ever since. She has definitely a way with words and is one of my favorite Indie authors.
The character building was interesting for a couple of reasons. First Frank is a red head... which well, no offense doesn't usually make me think of hot and sexy.... but well, true to form, McHugh made him not only a total toyboy, she also gave him integrity and made him desirable not just because of his abs.. trust me total marriage material. Let me illustrate that for you...
Changed my mind entirely ;) I like red heads now.. and the smut, oh the smut in this, it helped greatly achieve that..yep, McHugh did write some rather enticing smut scenes
Kiana is of a totally different background than any other female character and comes with plenty of baggage. But frankly I wasn't sure I could relate to some of her issues. In fact some of them just made me roll my eyes and feel she was being over dramatic.
Her brother was too cliche for me, I found him not believable, though to be honest, I could not point out exactly why and what. Maybe it was just all a tad too over the top? Not sure. I had huge issues with his name calling for starters, but not only that, I could just not understand where the animosity came from at all...
Talking about that, I am not sure how I feel about how Kiana handled the situation in the end. I mean she did live with T for most of her life? And how does the mother feel? It was a bit to fast and to easily done with.
A side note: as someone who is in a mixed race marriage, I found it really cool that McHugh went that route. And even better that she actually showed that while often the couple doesn't really think of themselves in that term- others not only do, they often point it out as well. I don't think I'll ever get the issue and will definitely never even get close to understanding the name calling. While this is not a deep social analyses- it was nice to read a romance set in that setting. McHugh managed to bring diversity without making it a big deal. Just like in real life!
All in all: a great addition to a wonderful series and I am looking forward to the next book in the series.
Well written, fun cute & fluffy a must read for lovers of the genre.
Rating:
(click on the name for reviews of this geek)