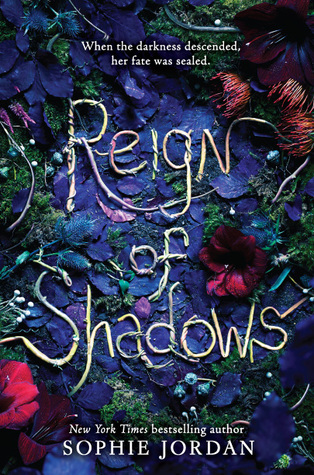 Reign of Shadows
Author:
Sophie Jordan
Publisher:
Harper Teen
Series:
Reign of Shadows #1
Pages:
Kindle Edition, 304 pages
Genre:
Fantasy, Young Adult
Release Date:
February 9th 2016
Summary:

Seventeen years ago, an eclipse cloaked the kingdom of Relhok in perpetual darkness. In the chaos, an evil chancellor murdered the king and queen and seized their throne. Luna, Relhok's lost princess, has been hiding in a tower ever since. Luna's survival depends on the world believing she is dead.

But that doesn't stop Luna from wanting more. When she meets Fowler, a mysterious archer braving the woods outside her tower, Luna is drawn to him despite the risk. When the tower is attacked, Luna and Fowler escape together. But this world of darkness is more treacherous than Luna ever realized.

With every threat stacked against them, Luna and Fowler find solace in each other. But with secrets still unspoken between them, falling in love might be their most dangerous journey yet.

With lush writing and a star–crossed romance, Reign of Shadows is Sophie Jordan at her best


Review:
I honestly wish I would have liked this more.
Because the way this started, the blurb, the cover - it all made me feel extremely hopeful
I mean:
A royal assumed dead. Lost and forgotten. Trapped in a tower within a cursed forest, surrounded by monsters.
Doesn't that sound familiar? Well, to me it sounded like my favorite childhood fairytale.
And hence I was looking forward to it.
I liked the idea of the world- the midlight, shadows, the creatures, the eclipse... It's so goth, pretty gruesome awesomeness...Right down my alley.
But alas I didn't.
Because let's just face it. That's where my likes end, mostly at least.
I am not exactly wowed by the character building.
The support cast, feel exactly like that. Support. Nothing more.
While I like that Luna is a slightly different kind of MC, I found here annoying. In fact, she is rather melodramatic and very ungrateful. Supposedly she is this amazing person... but I just couldn't see it.
And mostly she was the cliche spoilt uber-dramatic princess. I wanted to smack her most of the time. Actually I wanted to shank her. I found her POV overly whiny. Her dramatic self-sacrificial ways, felt more like a way of getting attention than anything else.
Fowler... So he is clearly hot, or at least we are told that, he has a sexy voice. BUT he is just another walking cliche. His big secrets, are not surprise - I could see them coming from a mile off. The only time I felt a connection was when he was thinking about Bethany right at the beginning.
The romance is woody and felt a tad tired. I mean we told that there is this huge connection between them- this amazing chemistry. I however didn't see that at all. There were a couple of sweet moments, but the kiss 75% in was totally underwhelming actually. It's insta-love/lust and the few sweet moments couldn't cover up that fact. Oh and where is the starcrossed part we are promised in the blurb?!
While I do like the setting, the world building has huge gaps. I was left with a gazillion questions. Still my favorite part of the book.
The plot is boring.. most of the time. At least for the first half, not much happens. Much melodrama. But then they started traveling and it got a wee bit more interesting. At 80% though, I was kinda done. I would have totally DNFed if this wasn't a ARC.
This ends on a cliffy. It's supposedly one of those uber-cliffies... but the most disappointing thing about that? I didn't' really care. I was just glad that it was done.
I am really sad that this didn't work for me. I like Jordan's writing style. I like the way she described how Luna saw things, I like the concept, the general idea and I am not sure I am totally ready to give up on the series yet. I have hopes, that the second book will get better....
Rating: