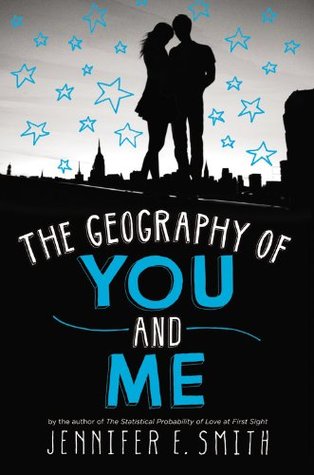 The Geography of You and Me
Author:
Jennifer E. Smith
Publisher:
Little, Brown and Company
Pages:
Kindle Edition, 352 pages
Genre:
Young Adult
Release Date:
April 15th 2014
Summary:

Lucy and Owen meet somewhere between the tenth and eleventh floors of a New York City apartment building, on an elevator rendered useless by a citywide blackout. After they're rescued, they spend a single night together, wandering the darkened streets and marveling at the rare appearance of stars above Manhattan. But once the power is restored, so is reality. Lucy soon moves to Edinburgh with her parents, while Owen heads out west with his father.

Lucy and Owen's relationship plays out across the globe as they stay in touch through postcards, occasional e-mails, and—finally—a reunion in the city where they first met.

A carefully charted map of a long-distance relationship, Jennifer E. Smith's new novel shows that the center of the world isn't necessarily a place. It can be a person, too.
Review:
So quite frankly somehow I am sitting here, wondering what I actually expected from this. But all I can say not really what I got.
I mean this is quite cute. I was hoping for a cute & fluffy. And I guess it is. Maybe, or at least some bits.
There is plenty of angst- but hey they teenies. I didn't mind that. I don't get the whole awkward phase thing, though.
Then the parents, are totally blase - but wait! we talking teenies!!!
The snail mail situation... uhm cute but who still does that? Ok well, I do but NO wap, fb or email? Not even my granny does that!
The end yeay, cute and fab, but I was sorta over it all by then.
Basically the plot is rather unrealistic.
I enjoyed the writing style
So: my issue? I was bored most of the time. I kept kinda expecting something. Well, don't ask me what. Actually: Anything more.
I liked the night on the roof. But then, I just was given banal daily bore. I wish there was less family dynamics and all that, but more cute & fluffy instead.
Sadly not really my thing
Rating: