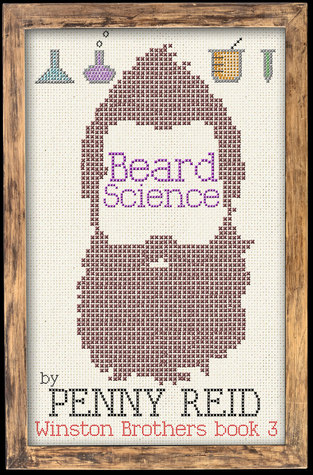 Beard Science
Author:
Penny Reid
Publisher:
Cipher-Naught
Series:
October 11th 2016
Pages:
Paperback, 384 pages
Genre:
Romance
Release Date:
October 11th 2016
Summary:

Everyone in Green Valley, Tennessee knows that the six bearded Winston brothers have been imbued with an unfair share of charm and charisma… and are prone to mischief.

Make a deal with the devil and you might get what you want, but will it be what you need?

Jennifer Sylvester wants one thing, and that one thing is NOT to be Tennessee's reigning Banana Cake Queen. Ever the perpetual good girl and obedient daughter, Jennifer is buckling under the weight of her social media celebrity, her mother's ambitions, and her father's puritanical mandates. Jennifer is officially desperate.
And desperate times call for Cletus Winston.

Cletus Winston is a puzzle wrapped in a mystery covered in conundrum sauce, and now he's in a pickle. Despite being convinced of his own omniscience, extortion by the exalted Banana Cake Queen of Green Valley has taken him completely by surprise. So… what's a maniacal mastermind to do?

Likely, the last thing you expect.

'Beard Science' is the third book in the Winston Brothers series, is a full-length romantic comedy novel, and can be read as a standalone

About Penny Reid
SEX! It all started with sex, between my parents. Personally I don't like thinking about it, but whatever works for you is a-ok with me. No judgment. The sex happened in California and much of my life also occurred in that state until I moved from the land of nuts (almonds), wine, silicon… boobs, and heavy traffic to the southeast US. Like most writers I like to write, but let's get back to sex. Eventually I married and gave birth to 2 small people-children (boy-6, girl-4 as of this writing).
By day I'm a biomedical researcher with focus on rare diseases. By night I'm a knitter, sewer, lino block carver, fabric printer, soap maker, and general crafter. By the wee hours of the morning or when I'm intoxicated I love to listen to the voices in my head and let them tell me stories. I hope you enjoy their stories.
Review:
I keep trying to review this book, only to come up with- astounding speechlessness.
Mind you this is not because I don't have anything to say. NOT at all. I don't know where to start, nor do I know how to write this review without it become a rampling fangirling mess...
So after a ridiculous amount of trials, that all completely failed. I have decided to go about this the scientific way. I am a scientist after all. I shall structure this properly. Go about it very scholarly. Add my fangirling at the end AND most importantly: I will try and keep my rambling to an absolute minimum
Okay here it goes:
CRITICALLY
story line
A slow smoldering (and o boy does it smolder!) romance between two unlikely love matches, who discover that sometimes what you think is the right thing for you, isn't really what you really want or need.
It's quirky, swooning and fabulous cute & fluffy with a good splash of real and lots of heart. Just like we all have gotten to expect from Reid
writing style
I have read everything Reid has published so far. And I find myself re-reading her novels, which if you know me, you know MEANS something. I rarely re-read. Too many books on my TBR. I not only re-read Reids books, I adore them. That should be enough of an explanations, that I utterly adore her writing style. It's funny, clever and to the point. Yet it also beautiful, sensual and moving. Beard Science is one of her best to date, in my opinion, when it comes to prose.
character building
Now. I will try really hard to remind objective. Which is really hard, when you feel like you actually know all the characters, when they feel so real. That in itself, tell you how I feel about the character building, I guess.
Cletus was one of my favorite characters, right from his first appearance in Beauty and the Mustache. I completely and utterly fell in love with him from the get go. So I started this book feeling divided. Because I had this HUGE expectations. First I couldn't wait to read Cletus' story but what if he wouldn't live up to my expectations?! After I finished I felt divided because, Cletus' story was over. BUT Reid managed to not only meet my expectations, nope, she exceeded fare beyond them.
Cletus, who was a little bit of an enigma, but to whom I felt kinship somehow, now feels real, I feel like I understand him, the different layers that make him tick and yet to my utter delight, he still is a little bit of an enigma. Just like a real close friend would be. Reid's character building here is basically genius.
Jennifer has very little in common with me. Except our mutual love of baking (small batches, and her love in the food theory came straight out of my heart!!). Otherwise I found myself watching her with interest, getting to know a her, exploring who she was and who she became. I really couldn't relate to her relationship with her parents. BUT and here, comes again, why I love this book so much, while her character is alien to mine, I like her, I care for her and in the end absolutely adored her. I enjoyed discovering who she was and watch her grow.
As I said I couldn't relate to her relationship with her parents. And here is my biggest complaint about the book. And when I say biggest it's the only thing I didn't like much while I was reading. I found the parents too much. I felt like it was exaggerated. I couldn't believe that there were people out there, who treated family like that... and yet I love where Reid went with them. I reconciled myself that while a bit strong, it has aspects that could be real. Then I ended up reading so many readers review, where they said, they had similar issues like Jen. THIS just breaks my heart. I love how Reid responded to it. AND I found myself realising that I was wrong. Just lucky enough to have been surrounded by people who accepted who I was and supported me in my choices.
The support cast is awesome sauce. Though I wish there was more of the rest of the Winstons. Because really.. I adore the entire bunch!
EMOTIONALLY
I am moved and excited - yet astounded by this novel. I found myself pondering over it on many occasions since I read it. When I finished it I was sad, because I didn't want it to end. Yet I am excited about Billy's story, can't wait to get my hands on it. And then again I am worried about one of my series coming soon to an end... it will be too soon.
Straight after reading I rated this 4.5 Stars... yet a couple of weeks in.. it is 5 stars. Because as time progressed I discovered how much I really love it, how deeply it touched me... and how amazing this really is. I will not go into my feeling of kinship for Cletus, or how much I adore Duane.. how I feel kinda ridiculous about how much I care about them. How well written they all are.. But rather let me try and explain how much I have to come to admire Reid. I honestly have a total girl crush on her. She is not only a talented story teller, she is witty and clever- and she does geeky beyond well! -but she also has insight and heart. If I had any stalker tendencies.. I'd totally become her main stalker. The good news is she is in luck, I ain't a stalker, I just fangirl. And I promised to keep that at a minimum. (I am trying!) So I will just say, this book is the reason to why I love romance books. This book epitomises why Reid is not only one of my favorite authors but is someone I greatly admire. I love how she supports girl power and encourages individuality. Which is evident in her Facebook group and while I'm at it, I love the Sharks of awesome!
OVERALL
One of the best releases in 2016.
It's fun, swoony cute & fluffy. One of those books you can't put down and leaves you happy, yet wanting more.
One of my favorite books. ever.
Rating:
Giveaway: