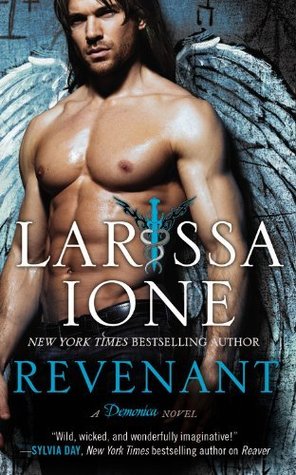 Revenant
Author:
Larissa Ione
Publisher:
Grand Central Publishing
Series:
Lords of Deliverance #6, Demonica #11
Pages:
Mass Market Paperback, 368 pages
Genre:
PNR
Release Date:
December 16th 2014
Summary:


HELL HATH NO FURY . . .

For five thousand years, Revenant believed he was alone in the world, a fallen angel beyond any redemption. Now he finds he has a twin brother who had all the light and love Revenant was denied. Caught in a tug of war between Heaven and Hell, he must weigh his thirst for revenge against his desire for a mysterious female named Blaspheme—a female whose very origins could deliver him into salvation . . . or destruction.

LIKE AN ANGEL SCORNED

Blaspheme has a deadly secret: she's the forbidden offspring of an angel and a fallen angel. Hunted by both heavenly and satanic forces, she has survived only by laying low and trusting no one. When Revenant claims he can save them both, how can she possibly believe him? But the powerful angel is persistence incarnate and for Blaspheme, there's no place she can hide in Heaven or Hell where he won't find her . .


Review:
This is the sixth book of the Lords of Deliverance series or as I renamed it, "Welcome to Revenant's pity party" .
I really loved the 5 books of the Demonica series as well as the firsts three of the Lord of Deliverance. But after the uneven and tepid-ish Reseph's as well as Reaver's books I wasn't that excited about Revenant's book.
Where Reaver's character was introduced very early in the Demonica series and had steady appearances through out both Demonica and Lords of Deliverance series, Revenant only appeared in Reaver's book. As the Lords of Deliverance series is about the four horsemen of apocalypse, when I heard that a fifth book was coming my first thought was "$, here I come", but on the other hand given Reaver's part in both series, I understood that Larissa Ione wanted to write a book dedicated to his story. But, not only the book was a disappointment, but LI managed to finagle a sixth book out of it by giving him a twin.
Here's a short list of the things that didn't work for me in this book:
1/ Beside what's in the blurb, we have little back story about Revenant but it was repeated many times as Revenant whined and bitched about his fate. As if we couldn't understand it, and needed many reminders of his sad sad past and so unfair present. *rolls eyes*
Note to author: whining heroes are NOT sexy.
2/ Same goes for Blaspheme. Like Revenant, despite the fact that she was a minor side character in other books, she too had no character development.
3/ Not only Revenant and Blaspheme had no character development but their "love" story suffered of the same fate.
-> The result of this is that I couldn't care less for either of them or their supposed love story. And don't get me started on the sex scenes.
4/ A super weak plot that was inexistent for most of the book and was solved in one chapter... Yeah, that was thrilling. Not.
5/ Beside Eidolon, most of the major characters in the series acted like asses. As if Revenant needed any more fuel to his pity party...
Listening to this book I longed for one of Anne Stuart true and unabashed gamma heroes. The reason I rounded up the rating to 2 stars is that despite the bore that was Revenant's book, Larissa Ione managed to close the loop between the 2 series.
Last but not least, I want to say that the dull narrating didn't help
Rating:
What The Hell?
(click on the name for reviews of this geek)