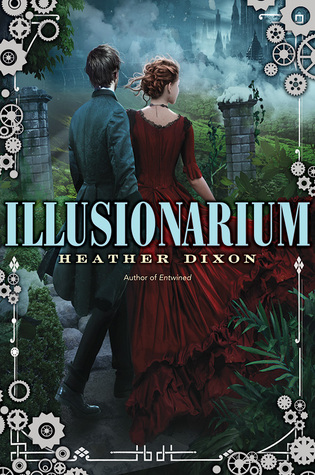 Illusionarium
Author:
Heather Dixon
Publisher:
Greenwillow
Pages:
Hardcover, 368 pages
Genre:
Fantasy
Release Date:
May 19th 2015
Summary:

What if the world holds more dangers—and more wonders—than we have ever known? And what if there is more than one world? From Heather Dixon, author of the acclaimed Entwined, comes a brilliantly conceived adventure that sweeps us from the inner workings of our souls to the far reaches of our imaginations.

Jonathan is perfectly ordinary. But then—as every good adventure begins—the king swoops into port, and Jonathan and his father are enlisted to find the cure to a deadly plague. Jonathan discovers that he's a prodigy at working with a new chemical called fantillium, which creates shared hallucinations—or illusions. And just like that, Jonathan is knocked off his path. Through richly developed parallel worlds, vivid action, a healthy dose of humor, and gorgeous writing, Heather Dixon spins a story that calls to mind The Night Circus and Pixar movies, but is wholly its own.
Review:
"The universe is...quite a bit like chess", she said. She smiled at my expression. "Let us say, in my first move, I choose to move my knight here. Then what happens? The game progresses in a very different manner than it would have if I, perhaps, moved it here." Lady Florel moved the knight two squares to the side. "It could be completely different in fact.""Perhaps" I admitted. "But probably not entirely different."
Illusionarium is one of those well told, fascinating stories that reminds me why I love this genre so much!
It took me several days to read, simply because this is fast paced and intricate, it's the kind of book you need to pay attention too. You know, each detail is put there with a purpose. It's also what probably is the most exciting thing about this novel.
I haven't read any previous works by Dixon, so this was a wonderful discovery for me.
Her writing
is beautiful, witty, clever and intricate but uncomplicated. It reminded me in parts of some of my favorite fantasy writers- Tad Williams and Brandon Sanderson, to name just two. I don't usually like comparing authors to one another. But I mean this in the most positive possible way. Because Dixon, in my opinion got everything I love about the genre wright, then went a packaged all that in beautiful prose. What a talent! With this novel she has catapulted herself into my fantasy readers heart.
The world building
is astounding. It's seriously brilliant. The idea of it fun and at times I felt like Alice in Wonderland... so beautiful and well done, but so unique. While familiar it's also so innovative. Adding the whole science bits, made it so much better....No'dol and Arthurium are interesting possibilities- and somewhere there is a kernel of truth to both of them. Which is exactly what makes this so genius.
Just SUPERB
The plot
is fast, interesting and fun. A well told story line, with interesting twists and turns. I found myself thoroughly entertained, even if I did see most of the twists coming. I loved being part ofJonathan journey.
The character building
is well done, when it comes to Jonathan and Lockwood. But I found it was rather extreme when it came to any characters in No'dol. They felt rather a bit like caricatures, though I think frankly that Dixon did this by purpose. It give Johnathan's situation more gravity actually. It made it feel more extreme and also more Mad Hatter and Wonderland, so I didn't mind it after all.
The story is told from Jonathan POV and I really loved his footnotes. I feel like I was on the journey with him. And adventure we both shared and I utterly loved his sense of humour.
Saying all this, I think I should mention this is not character driven. The story and world building take equal place- another wonderful achievement by Dixon. It is very rare to read books who manage a balance between the three...
One of the best fantasies in 2015!
An absolute must read for lovers in the genre
Favorite Quotes:
Roasted chicken- al of the chicken, with wings and legs still attached. All of our food on Fata had to be shipped from the south, which meant it came in pieces, and I didn't quite trust food that hadn't been cut up into God-fearing chunks.
At times I'd catch her looking for me after I'd said something funny, and she'd smile at her fee and hug her books to her chest, and insofar as I could see, it was the beginning of a very promising relationship.
"A dance?"I said, laughing."What, with who? All three boys who live here?""
"Whipped?"I said. when he had told me the story. "They did things properly back then," my father had said with pride.
ASAYAW = "As Soon As You Are Willing"* *Which is the Arthurisian way of saying,"We're Dying! DYING, I SAY!"
Rating:
(click on the name for reviews of this geek)