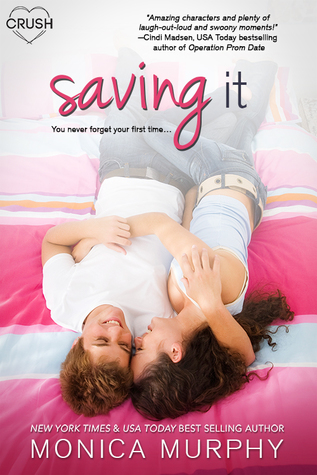 Saving It
Author:
Monica Murphy
Publisher:
Entangled: Crush
Pages:
ebook, 241 pages)
Genre:
YA
Release Date:
November 6th 2017
Summary:

Eden: Josh Evans and I have been best friends forever. He knows all my secrets, and I know all of his. So when he randomly asks me to help him lose his virginity, I sort of flip out. That's a question that sends your mind to places you've seriously never considered before. Like, you know. Having sex. With your best friend. Except Josh doesn't want to have sex with me—he wants me to help him find a girl. A nice girl who's funny and smart and cute. Except he already knows a girl just like that…

Josh: Eden Sumner is my best friend. So of course she'd be the person to help me find my perfect match, so I can drop my V card before I head off to college. Except the more we search, the more I realize that maybe the right girl has been by my side all along. I don't need Eden's help in finding me a girl to love. I'm pretty sure I'm already in love with Eden. But now she thinks I'm only after one thing…with anyone but her.

Disclaimer: This Entangled Teen Crush book is what happens when American Pie meets Friends with Benefits. It contains two best friends, plenty of angst, and lots and lots of sex talk. Reading this might have you looking at your best friend in a different light!


Review:
A super cute story about best friends discovering they might feel more for each other.
The story line is classic cute & fluffy. It has all the ups & downs required for a YA romance, the usual usual dramas but also the usual cutness.
The reason I liked this however: the character building. Especially Josh and his POV! He is super cute, funny and yummy BBF if you ask me. I enjoyed also getting to see his vulnerable side, his insecurities and also his internal battles. I really enjoyed the banter between Eden and Josh. Also their history and strong connection.
Eden is a strong female lead, who is really likable. I got her insecurities but also loved her quirkiness.
Also a factor I like about Eden, she is clear as what she wants but doesn't judge other about their actions. It's actually refreshing, because while most people don't slut shame openly, they somehow do. And on the flipside, if someone wants to "save it" it is considered rather old fashioned. Murphy takes a do what is right for stand and I love the way she did it. No judgement. Just stating different opinions.
The support cast is fun and does a good job at giving insight to Josh and Eden. I liked the way the friends supported each other, how they all want the best for each other. The love and care they have for each other, even beyond arguments and disagreements felt real and solid.
My only negative thing is the plot was too much the usual. I mean did we really need a big disagreement at 75%? The big swoony moment, though I did find the idea cute, made me cringe because it was done in public. Why? Couldn't he just do it in private? Same thing but just the two of them?
Also the issues that were built up during the whole book, felt a bit to conviniently solved. Again, I didn't mind the solution, but after all this stuff happens, everything just fell into place in a few pages. It made it feel rushed. Especially the issues between Josh and his dad.
I wish Murphy would have explored all the issues a bit more, given this a wee bit more depth..
The end super cute. I loved it. Honestly super cute & fluffy HEA, but I was swoony happy.
Cute & very enjoyable read.
Rating: