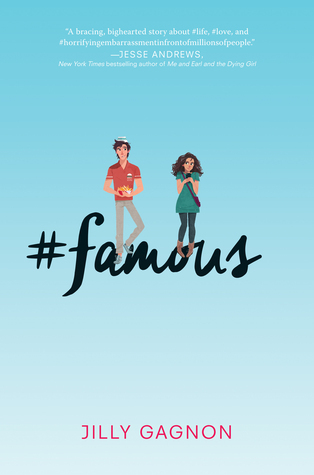 #famous
Author:
Jilly Gagnon
Publisher:
Katherine Tegen Books
Pages:
Hardcover, 384 pages
Genre:
YA
Release Date:
February 14th 2017
Summary:

In this modern-day love story, Girl likes Boy, Girl takes photo of Boy and posts it online, Boy becomes accidentally insta-famous. And what starts out as an innocent joke spirals into a whirlwind adventure that could change both their lives—and their hearts—forever. But are fame and love worth the price?

Told in alternating points of view, #famous captures the out-of-control thrill ride of falling for someone in front of everyone.
Review:
#famous is your classic cute & fluffy with every wonderful romcom cliche thrown in and I happily gobbled it all up.
Two reasons for this:
1. I love the writing style.
2. The character building was done really well.
Now, we all know if those two things are in place, I will forgive shortcomings of any kind.
The good news there aren't many. It's fluffy and there isn't a lot of substance to it somehow. But that's it and frankly I enjoy a swoony cute story even if it doesn't throw loads of depth at me.
The storyline is predictable but still entertaining.
I wasn't sure how I was going to feel about the online fame thing in the beginning. But very quickly I changed my mind. I actually think that Gagnon did a good job highlighting the situation. I think there is plenty of cyber-bullying going on and also that we all kinda crave the positive attention social networks can give us. (grant you some more than others...)
All of this however was deemed insignificant due to super cute moments and a really swoony boy. I adore both MCs and enjoyed both of their POVs. Kyle is the classic cute and sweet boy, who also is totally clueless when it comes to females and I totally adore him. Favorite thing about the book.
Rachel feels real with her insecurities and her worries and problems, I didn't much like her in the beginning, she felt to snarky and mean, but as we get to know her, we get to see a different side to her and I got where she was coming from.
The mean girls, however important they are - I do think they are important to the story and it was a way to add depth to it- felt too over the top and too cliche, which kinda ruined their purpose. Then there is Emma. She is your classic "nice"girl, who isn't actually that nice and will use her popularity to get what she wants. I actually know girls like that and in that I really liked the way Gagnon wrote her. But then she went a pulled a move that was a tad to movie for my taste.
I read this in one sitting. So clearly I was captivated by it and I guess this sounds not too positive. But seriously I did love this book. The above are only the reasons why this is "only" 3.5Stars.
It is well written, cute, swoony and definitely a super enjoyable book!Appropriate read for Valentines... since it's released today get a copy and enjoy some romance.
Rating: