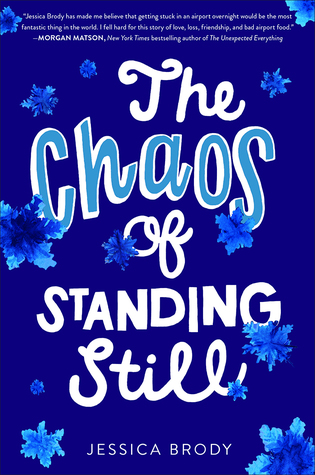 The Chaos of Standing Still
Author:
Jessica Brody
Publisher:
by Simon Pulse
Pages:
Hardcover, 320 pages
Genre:
YA
Release Date:
November 28th 2017
Summary:

Over the course of one chaotic night stranded at the Denver airport, Ryn confronts her shattered past thanks to the charm of romance, the uniqueness of strangers, and the magic of ordinary places in this stunning novel from the author of Boys of Summer.

Ryn has one unread text message on her phone. And it's been there for almost a year.

She hasn't tried to read it. She can't. She won't. Because that one message is the last thing her best friend ever said to her before she died.

But as Ryn finds herself trapped in the Denver International Airport on New Year's Eve thanks to a never-ending blizzard on the one-year anniversary of her best friend's death, fate literally runs into her.

And his name is Xander.

When the two accidentally swap phones, Ryn and Xander are thrust into the chaos of an unforgettable all-night adventure, filled with charming and mysterious strangers, a secret New Year's Eve bash, and a possible Illuminati conspiracy hidden within the Denver airport. But as the bizarre night continues, all Ryn can think about is that one unread text message. It follows her wherever she goes, because Ryn can't get her brialliantly wild and free-spirited best friend out of her head.

Ryn can't move on.

But tonight, for the first time ever, she's trying. And maybe that's a start.

As moving as it is funny, The Chaos of Standing Still is a heartwarming story about the earth-shattering challenges life throws at us—and the unexpected strangers who help us along the way


Review:
The Chaos of Standing Still is definitely interesting and worth giving a go.
I like Brody's writing style. I like the fact, that she does tackle some interesting subjects. The Chaos of Standing Still she explores survivors guilt.
There is much more going on, however. It is a fun little adventure set on an airport, during a snow blizzard. I have never been to Denver, but I have spent plenty of hours on airports and Brody gets the moods and the feeling just right. Her snarky, witty and fun outlook on the world resonates with me.
I really like the idea of this. A lot. I love all the little side themes, the adventures and little weird anecdotes (like passenger lotto) In the beginning I liked the back flashes as well, but as the book progressed they felt disruptive. There were simply too many of them for me.
The character building is done well. I feel like I got to know Ryn, Xander and Lottie fairly well. Really liked Xander. He is sweet and fun. My favorite in the bunch. Lottie, let me just say this, is a right out b*tch. I couldn't understand why Ryn was friends with her? Their relationship sounded toxic to me. Lottie is beyond self-involved and manipulative. I just didn't get their connection. However, I have seen friendships like that and know that they are possible. So while I don't approve, it doesn't negate the way Ryn feels.
Ryn had me divided. Because at first, I adored her. She is all negative snark and obsessions, so can relate. But then I found her more and more annoying. She was throwing this huge continuous tantrum refusing to even listen to someone else's story. I didn't like how she dealt with Xander, when he talked about his issues with his parents, for example. I mean, I get she doesn't feel understood by her parents, that she feels lost and that she doesn't really want to deal with the past, hence resents her therapist first and foremost. But her passive aggressive behavior has no bounds and I at least wanted some kind of sympathy towards Xander.
So while I love the context and the storyline, I didn't like some of the styles the story was told in. And though I do think the character building, I was not a fan of most of the characters. Both of these things diminished my liking- ergo the rating of the book. While I think the idea is fabulous, the execution is only good. So 3 I-wish-it-was-more Stars from me.
Rating: