We excited to be part of the blog tour for The Infinite by Lori M. Lee. Lori kindly answered a few questions for us, find out more about her books and don't miss the giveaway at the end of it!
Certainly a fun tour for a new talent to look out for!
Praise for Lori M. Lee
"Lori M. Lee excels in building a world of intrigue, oppression, and magic amidst a Labyrinth setting as twisted and winding as the secrets hidden inside her characters' hearts. Fans of strong heroines who don't need a boy to hold their hands, action-packed fighting scenes, and whispers of steampunk and mythology, will find themselves wishing they, too, could manipulate the threads of time, if only to stay inside the story a little longer."
A.G. Howard, New York Times bestselling author of the SPLINTERED series
"Inventive, romantic, and gripping. I was hooked from the first page!"
Amy Tintera, REBOOT and REBEL
"Lee has woven a captivating fantasy that will thread its way into your heart and pull you into a world of magic and intrigue."
Christina Farley, GILDED and SILVERN




About Lori M. Lee
Lori is the author of young adult fantasy novels Gates of Thread and Stone and The Infinite. She has a borderline obsessive fascination with unicorns, is fond of talking in capslock, and loves to write about magic, manipulation, and family. She lives in Wisconsin with her husband, kids, and a friendly pitbull.
WEBSITE ⎢GOODREADS ⎢ TWITTER ⎢ FACEBOOK ⎢ TUMBLR ⎢ PINTEREST ⎢ INSTAGRAM
Tell us 5 random things very few people know about you?
1. I had mild OCD as a kid (namely the counting among other things), but I just thought I was weird and didn't tell anyone about it. I only realized what it was years later while watching Elektra.
2. I met this girl during summer school after sixth grade, and I thought she was super cool because she had all this sexual experience. So I totally lied and pretended I was experienced too. (I had not yet had my first kiss.)
3. My first kiss was in seventh grade with my boyfriend (who I didn't really even like that much) in a closet because our friends had shoved us in there and wouldn't let us out until we kissed. It was just a quick peck on the lips. I dumped him a week later.
4. I used to steal my sisters' romance novels to read in secret. They were such a great bad influence on me.
5. When I was working the drive thru at BK when I was a teen, I used to amuse myself by talking to customers with a British accent. They always looks so confused. (In hindsight, it was probably because I was bad at faking a British accent...)
Coffee or Tea?
Neither. Hot cocoa :)
Who's your fictional crush?
Oh my god, where do I begin? Haha. Currently, it's Morpheus from the Splintered series by A.G. Howard. He can steal me away any time *_*
Which book have you read last?
I recently reread The Hobbit. You just can't go wrong with Tolkien.
How did you end up being an author?
I've always wanted to be an author, so when I thought my writing was finally ready, I went about the usual way: writing what I hoped was a good book and querying an agent.
Gates of Thread and Stone is your debut novel, what was your inspiration for this series?
I mashed together two ideas—one about the daughter of Time and another about mind-controlled super soldiers.
Are you a method writer? Do you work on the world first, or do you start with characters, or the plot? How do you work on a book?
It's a combination of character and world. I have an extremely vague idea of who the main character will be, and then I work on world building. With GoTaS, I conceived the character of Kai and then I worked on fleshing out her world before jumping into any sort of plot. The setting and her circumstances will always inform the story/plot, so that's usually how I go about things.
Any advice for an aspiring author?
Read a lot. Practice your craft a lot. Whichever publishing route you want to go, educate yourself on it. And don't give up!
Find more Interviews and other fun stuff on the other stops of the
BLOG TOUR


Gates of Thread and Stone Series
Gates of Thread and Stone
Author:
Lori M. Lee
Publisher:
Skyscape
Series:
Gates of Thread and Stone #1
Pages:
Hardcover, 335 pages
Genre:
Fantasy
Release Date:
August 5th 2014
Summary:

In the Labyrinth, we had a saying: keep silent, keep still, keep safe.

In a city of walls and secrets, where only one man is supposed to possess magic, seventeen-year-old Kai struggles to keep hidden her own secret—she can manipulate the threads of time. When Kai was eight, she was found by Reev on the riverbank, and her "brother" has taken care of her ever since. Kai doesn't know where her ability comes from—or where she came from. All that matters is that she and Reev stay together, and maybe one day move out of the freight container they call home, away from the metal walls of the Labyrinth. Kai's only friend is Avan, the shopkeeper's son with the scandalous reputation that both frightens and intrigues her.

Then Reev disappears. When keeping silent and safe means losing him forever, Kai vows to do whatever it takes to find him. She will leave the only home she's ever known and risk getting caught up in a revolution centuries in the making. But to save Reev, Kai must unravel the threads of her past and face shocking truths about her brother, her friendship with Avan, and her unique power.
INDIEBOUND ⎢ AMAZON ⎢BARNES & NOBLE ⎢ THE BOOK DEPOSITORY ⎢ BRILLIANCE AUDIO ⎢ ITUNES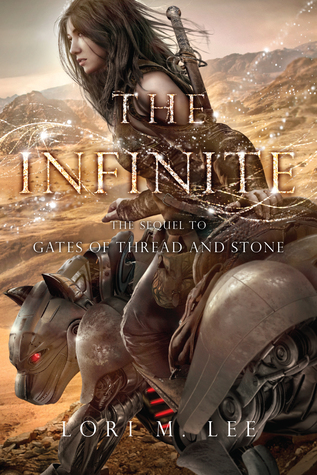 The Infinite
Author:
Lori M. Lee
Publisher:
Skyscape
Series:
Gates of Thread and Stone #2
Pages:
Hardcover, 378 pages
Genre:
Fantasy
Release Date:
March 10th 2015
Summary:

The walls of Ninurta keep its citizens safe.

Kai always believed the only danger to the city came from within. Now, with a rebel force threatening the fragile government, the walls have become more of a prison than ever.

To make matters worse, as Avan explores his new identity as an Infinite, Kai struggles to remind him what it means to be human. And she fears her brother, Reev, is involved with the rebels. With the two people she cares about most on opposite sides of a brewing war, Kai will do whatever it takes to bring peace. But she's lost her power to manipulate the threads of time, and she learns that a civil war might be the beginning of something far worse that will crumble not only Ninurta's walls but also the entire city.

In this thrilling sequel to Gates of Thread and Stone, Kai must decide how much of her humanity she's willing to lose to protect the only family she's ever known.
Den's
Review
INDIEBOUND ⎢ AMAZON ⎢BARNES & NOBLE ⎢ THE BOOK DEPOSITORY ⎢ BRILLIANCE AUDIO
Giveaway