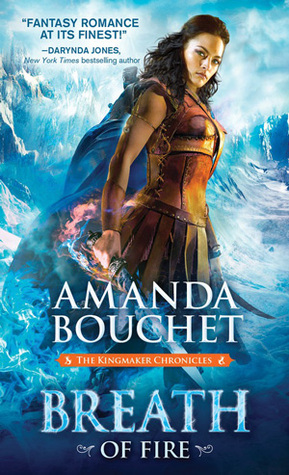 Breath of Fire
Author:
Amanda Bouchet
Publisher:
Sourcebooks Casablanca
Series:
Kingmaker Chronicles #2
Pages:
Paperback, 448 pages
Genre:
Fantasy
Release Date:
Expected publication: January 3rd 2017
Summary:

SHE'S DESTINED TO DESTROY THE WORLD...
"Cat" Catalia Fisa has been running from her destiny since she could crawl. But now, her newfound loved ones are caught between the shadow of Cat's tortured past and the threat of her world-shattering future. So what's a girl to do when she knows it's her fate to be the harbinger of doom? Everything in her power.

BUT NOT IF SHE CAN HELP IT
Griffin knows Cat is destined to change the world-for the better. As the realms are descending into all-out war, Cat and Griffin must embrace their fate together. Gods willing, they will emerge side-by-side in the heart of their future kingdom...or not at all.
Review:
Breath of Fire had me gasping for air, it's non-stop action. Literally, from the first page to the last.
I thoroughly enjoyed that.
I was smitten with Bouchet's writing skills reading
her first novel
. Breath of Fire just reconfirmed my adoration for it over and over. This is well structured, well paced (extremely fast mind you), has amazing descriptions and wicked world building. Some of the details are rather gory and gruesome, but there are also beautifully described heartfelt moments. Bouchet knows how to keep her readers on their toes. It's balanced just right, so we can connect to the main players, get to know the villains but also that we get a minor breath between action, gore and revelations.
The world building in one world is brilliant. Bouchet draws from greek mythology but makes this new unique world from it. At times Cat's quest reminded me of the Odysseys and at other times it reminds me of classic high fantasy novels. A great mix and to that Cat's prophesied fate, the history of the kingdoms and you have an intriguing, inspired world. I also need to mention the creatures Bouchet conjures up. And there are plenty in this one again. I totally adore her descriptions, some of them are again based on Greek mythology, others are newly invented (at least I think so), but all have Bouchet's own little twist to them. Seriously one of my favorite parts of the series!
The character building is another part this novel shine. I did love Cat in the first book. I ended up having issues with the last part and Griffin's behaviour. But in this book? I ended up totally smitten with Griffin. I mean totally. Cat changes in some ways, significantly. Her growth is steady and yet immense. Griffing is a rock in the tumult. His vision, loyalty and kindness are staggering. Their relationship strengthens and all the things I loved about them before, has be reconfirmed. They still argue, banter and fight the odds. But somehow their trust deepens, they accept each other and their bond becomes even stronger. Their relationship feel tangible and real.
Cat shares more of her past, and with that one starts to understand more about her and her actions.
Team Beta is in full action. And yet we get to know them individually somewhat better. They all grew on me even more.
Frankly the character building is so well done, that I feel like I left a group my close friends behind, after finishing the novel. I am actually invested in several characters and I need them to have some sort of happy ending. To be clear: that's for basically the support cast, we talking about.
The plot as I said before is non-stop action. Never a dull moment. There are quests, riddles, personal problems and disputes, battles and talks with the gods. Plus quite a bit of smut and some budding romances as well. In fact my one and only problem was ALL the smut in the first half. Basically there was dramas, smut, fight nearly die, smut and repeat it over and over. In the second half however, they were on a quest that reminded me of the epics like the Odyssey and very little smut thankfully. now
With her second novel Bouchet firmly planted herself in my favorite fantasy authors list.
My only problem: The next book is only going to be published sometimes in Fall 2017.
And here I am feeling breathless from my reading marathon, desperate to get my hands on the next book.
You however really need to give this series a go if you love the genre!
Rating:
ARC was provided by Publishers through Netgalley in exchange for an honest review