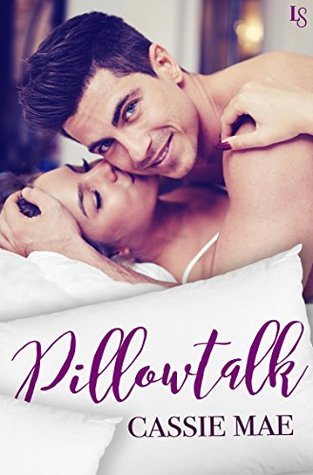 Pillowtalk
Author:
Cassie Mae
Publisher:
Loveswept
Genre:
Contemporary Romance
Release Date:
April 4th 2017
Summary:

In this heartfelt romance from the author of the All About Love series, two people who thought they'd given up on passion turn to each other for emotional support—and maybe something a little more physical.

Kennedy Walters has had a tough year. Now she's come to the lakeside town of Lyra Valley to finally say goodbye to the memory of her first love. But while she's staying at his sister's B&B, Kennedy is shocked to find herself undeniably drawn to a handsome local heartthrob—especially since she isn't sure if she's ready to move on.

Aaron Sheppard returned to Lyra Valley because he was fed up with the big city and everything it didn't have to offer—like the beautiful, down-to-earth girl staying at the B&B. Aaron's enjoying a little flirtation until he realizes that she's Kennedy Walters, the girl who was dating his best friend. But after a power outage strands them together, Aaron and Kennedy wind up sharing some intimate conversation. And over the course of a night that neither will ever forget, they learn just how compatible they could be—if only they knew how to let go and fall into each other's arms.


Review:
Beautiful story about second chances, letting go and healing.
I loved the story line. The romance is insta-attraction and while everything happens in a relatively short while. It also felt real and had depth. It's loaded with emotions, in the best way. But if you are a believer in the one love and all that, this might not be your thing.
For me however- I dont believe there is a soulmate or in the one big love and all that- this was refreshing and heartwarming. As both MCs struggle with the past, both are hurting and both need healing. Their new bond does not negate the past, it's new yet affected by the past and still it is something independent. I think it reflects life.
The book has Mae written all over it. I actually at some point thought it might be part of a series, it feels in correlation with her other books. I guess it's the writing style, the humor and her slightly different take on romance. And definitely the character building.
The reason I kept thinking it's connected to another series, but couldn't place it, is because I felt like I knew the support cast after a short amount of time. The same goes for Kennedy. I am talking a chapter in. The book is written from both Kennedy and Aaron's POV, but in the beginning it was just Kennedy... And I seemed to know so much in such a short time that I felt I must have known her from a previous book.. but when I checked I realised this is a standalone.
Both MC's go through a tremendous process of letting go. And both their difficulties felt real and tangible. I could relate to both of them. Their chemistry is palpable. The only little thing I found abit over dramatic was Aarons time at the lake and it's sudden solution.
Just like most of Mae's book this is full of sass, interesting characters. It's real-life romance at it's best. And the end left me smiling and swoony.
Heartbreakingly beautiful, full of hope and insight.
An absolute must read of fans of the author. Definitely one of my favorites of her.
Rating: